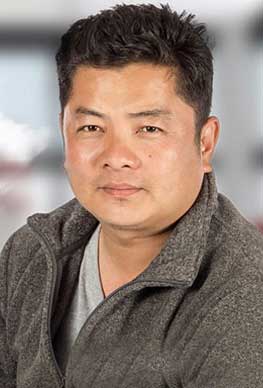 | | |
| --- | --- |
| Birth Name | दयाहाङ राइ |
| Birth Place | Khawa, Bhojpur District, Nepal |
| Birth Sign | Aries |
| Father | Tilakram Rai |
| Mother | Chandra Devi Rai |
| Spouse | Benuka Rai (2006-present) |
| Height | 5 ft 7 in (170 cm) |
| Eye Color | N/A |
| Hair Color | N/A |
| Date of Birth | 13 April, 1980 |
| Age | 35 years |
| Nationality | Nepalese |
| Net Worth | 80-100 lakh |
| College | Nepal Maanawiki Campus |
| Children | 1 son -Samduhang Rai |
Personal life and Family
Born on April 13, 1980 in a remote village in Bhojpur district in Eastern Nepal,Dayahang Rai  is one of the talented and versatile actor of Nepal Film industry.He is not only into acting but also into directing and play writing. He has starred in 40 plus films. He is one of the leading contemporary actors in Nepal.
The acting King in Nepali movie Industry Dayahang Rai is one of the most popular actors in Nepali movie industry with simple and humble personality. He started a career from the theater. Rai is also a director and play writer.
He belonged to a middle-class family of seven members. His father had two wives. Dayahang Rai has an elder brother – Bidur Lamichhane Rai and two younger sisters. He is now married for long time with Benuka Rai and have a son together.
He completed his lower secondary-level study from Pashupati Lower Secondary School in Khawa VDC, Bhojpur district and his high school from Annapurna Secondary School, Dilpa in 1998.His mother used to narrate him numerous fairy tales in his childhood which became  his inspiration. Dayahang started acting from his schooldays. z completed his intermediate-level studies at Bhojpur Multiple College, with geography as the major subject. Then,He came to Kathmandu in 2001 and joined the Nepal Maanawiki Campus (then RR Campus) as a journalism major. He could not do well in studies. He then moved towards theatre and stage shows.
Early Life
Dayahang Rai was born in very remote village in eastern region name Khowa that lied in Bhojpur district.He spent most of his childhood in this village with his family. His family belongs to a middle-class family.
Dayahang Rai finished his schooling from Bhojpur. He finished his lower level education from the Pashupati Lower Secondary School. After that, he moved to Annapurna Secondary School for higher level education. Rai completed his intermediate education from Bhojpur Multiple College with geography as the major subject. Then, he came to Kathmandu in 2001 and joined the Nepal Maanawiki Campus (then RR Campus) as a journalism major. He could not do well in studies. And then, He moved towards theatre and stage shows.
Career
Dayahang Rai was interested in acting from his childhood school days. So, after completing intermediate education from Bhojpur, he moved to Kathmandu for the further studies. After arriving in Kathmandu, he started staying with his relative. He was interested to watch a drama in theatre and started some other theatre festival hoping to meet some director.
He attended an acting workshop in Nachghar, Jamal Kathmandu organized by Anup Baral. Later, he acted around 20-25 dramas in the stage. He was more interested in backstage work rather than acting.
After he his performance in the first drama, he got chance to play a telefilm named Yuwa. At the same time, he got an offer to play a movie Anagarik by Rambabu Gurung which was written by Shrawan Mukarung. After the movie, he realized that he should join an acting class to improve his acting skills and he did so.
The movie Dashdhunga (2010) is the movie that helped him to rise his popularity in Nepalese movie industry. And another movie LOOT in which Dayahang Rai played a major role made blockbuster business in Box Office. The movie Loot not only succeeded in the box office but also brought significant change in Nepali traditional movie industry. DayaHang shared the screen with Priyanka Karki in several movies.He has also acted in the critically acclaimed White Sun (Seto Surya) based on the civil war in Nepal, which was Nepal's submission to the 2018 Oscars in the Best Foreign Language Film category.
Net worth and earnings
According to Wikipedia, Forbes & Various Online resource, Dayahang Rai's estimated net worth Under Review.
| | |
| --- | --- |
| Estimated Net Worth in 2019 | $100K-1M (Approx.) |
| Previous Year's Net Worth (2018) | Under Review |
| Annual Salary | Under Review. |
| Income Source | Primary Income source Movie Actor. |
Noted, Dayahang's primary income source is Movie Actor, Currently We don't have enough information about Cars, Monthly/Yearly Salary etc. We will update soon.
Awards and nominations
Dayahang rose to fame from the television series Yuva, Dalan and Hamro Team. His first leading role in a film was in Anagarik (2006). He found success in the films Dasdhunga (2009), Loot (2012) which became turning point in his career. Chhadke (2013), Badhshala (2013), Karkash (2013), Jholey (2014), Kabaddi (2013) and its sequel Kabaddi Kabaddi(2015), Talakjung vs Tulke (2014),Sambodhan (2014),Kabaddi Kabaddi(2015),Loot2(2017) etc are some of hit movies of Dayahang Rai. He has also collaborated in four films with director and friend Ram Babu Gurung.
| Year | Ceremony | Category | Film | Result |
| --- | --- | --- | --- | --- |
| 2009 | National Film Awards (Nepal) | Best supporting actor | Dasdhunga | Won |
| 2015 | National Film Awards (Nepal) | Best actor | Sambodhan | Won |
| 2016 | National Film Awards (Nepal) | Best actor | Kabaddi Kabaddi | Won |
| 2016 | LG Award | Best actor | Kabaddi Kabaddi | Won |

Relationship status
Dayahang Rai and singer Benuka Rai are happily married. Both met in a studio where Daya and Benuka learned acting and singing. They became close to each other and slowly fell in love. Finally, Daya and Benuka got married after around 6 years of relationship.
  
9 facts about Dayahang Rai Facts
1. Introvert
As Dayahang lived in remote village, he spent his entire childhood life in agriculture and rearing animals. He was a very shy guy. Having introvert character he didn't use to express himself openly so that making a friend was a difficult task for him. He even used to hide his injury when he got hurt during playing with friends. He thought that telling that to his family would make them sad. So he always kept his pain to himself. Now we can imagine how introvert Dayahang was.
2. Inspiration source – His mother
According to the source, Daya actually had two mothers. His family is composed of seven members. Since his childhood, he showed his interest in listening and writing a play. His mother used to narrate him numerous fairy tales in his childhood which became  his inspiration.
3. Kathmandu – The Hope
Because of Maoist insurgency, Dayahang rai was afraid that his parent would not allow him to send him to Kathmandu. So, he lied them that he decided to go abroad to work because he wanted to step Kathmandu to seek opportunities. After lying to his parents, he walked for two days to reach the land of opportunities and for the first time in his life he saw a vehicle in the valley.
4. Loot – The turning point
After entering the capital, his struggling stories started. He was accommodated in his relatives home. That was okay but he really had to work hard to become an artist. In his leisure time during work, he used to visit the theater to watch dramas.
From 2060 he was connected to acting and in 2063 he got a chance to learn acting in Actor Studio. Before that, he worked in the tele series like Yuwa, Hamro Team, and Dalan. Dalan was broadcasted after 6 years of it's shooting. Daya debuted in the cinema industry from the movie 'Anagarik' featuring Rambabu Gurung. After that, he acted in the films like 'Mero Euta Sathi Cha', 'Dasdhunga' and 'Acharya'. All of a sudden in 2069, he was hyped from the role of Gopal Gurung (Gofley) in the super hit movie 'Loot'. Since then he has never looked back. His height of success is further peaked by his other hit movies like 'Kabaddi' and 'Kabaddi Kabaddi.
5. Dayahang Rai's age 38 years.
6.He married singer Benuka Rai in 2006. He has a son named Samduhang Rai.
7.He has two younger sisters and an older brother.
8.Birthday April 13 and Born on 1980.Birth Sign Aries.
9.He is the co-founder of the Mandala Theatre in Nepal.
You can follow him on Facebook here: https://www.facebook.com/DayahangRai/
You can also follow him on instagarm here:
View this post on Instagram
Dayahang Rai's Cool Photos